Welcome to Artcage Tattoo Studio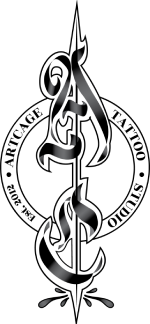 We are dedicated to the profession and love of the arts- including providing every client with exceptional tattoos and customer service in a clean and professional setting. As a private custom studio, we will do everything to ensure your experience is a positive one. Take time to view our gallery- and reach out for your initial consultation to turn your ideas into reality.
Not quite ready for a tattoo? Make sure to check out our store with unique prints and graphic tee shirts designed by Carlos to get you started.