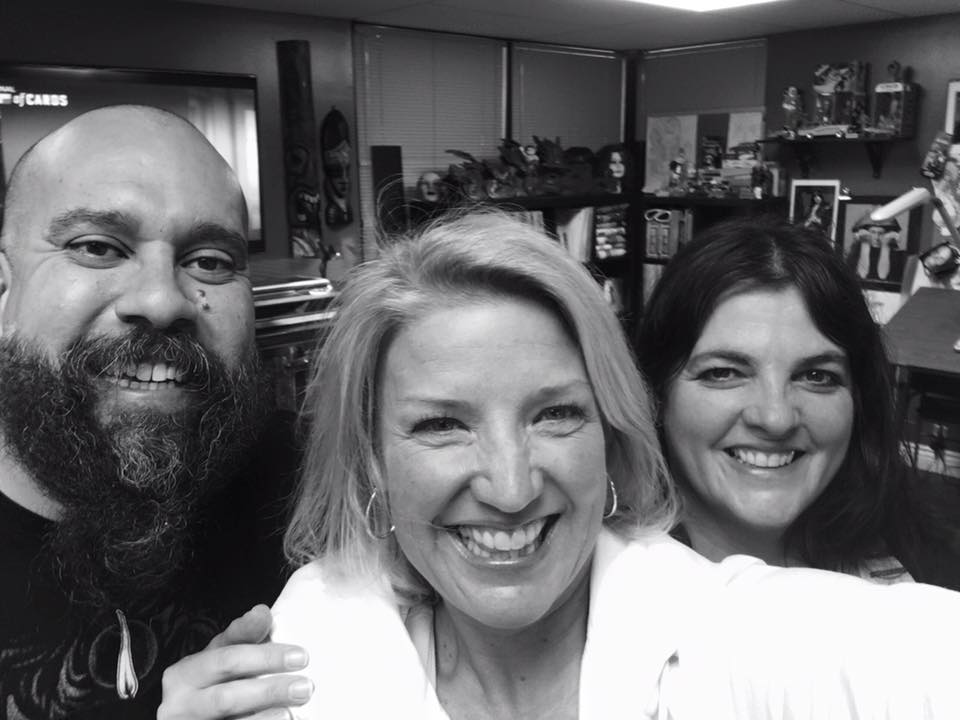 My experience with Carlos was great! The studio is very clean and welcoming. He and his wife made me feel at home. His work is the finest I have had done. His attention to detail is what caught my eye and I was not disappointed! I will continue to be a patron of his art and would recommend him to anyone looking for expertise, professionalism and welcoming atmosphere.
Not only is this a friendly and clean (and I mean CLEAN) shop, but Carlos has some AAAAHMAZING skills! He has now done 5 of my 8 tats, and I'm already trying to figure out what's next.
I went in for my first consult with a vague idea, with specific requirements, all with certain meaning, for a piece in memory of my dad…. It went kind like… "So, I need 7 stars. One big yellow one. Red white and blue ones, and green yellow and red ones. They mean this, and I want it to go here."
HE. NAILED. IT!!!!!! I mean, like absolutely nailed it. That piece was even more amazing than I could have ever imagined it to be and is still my favorite piece. He's got an easy hand, and a chill attitude. A session at Artcage is like hanging out with friends, drinking coffee all night long (thanks Angela <3) and coming home with some bad ass ink! Trust your story to Carlos.
You won't regret it.
Carlos is an amazing Artist. His work both covering up a huge piece that was done horribly and a new piece he has done on me are amazing. Carlos has an amazing eye and imagination. Recommend his work and studio to everyone I run into about tattoos.
Designing and ultimately deciding on a tattoo is hard enough. Finding an artist to compliment my ideas with their talent, personal connection, passion and studio vibe is another thing altogether. My ideas were years in their development and very personal in what they mean to me and my wife. Finding someone to incorporate them on my body was just as key. The Artcage is a very cool place- Carlos is a very cool artist. I was referred to him by friends and I had been to more than a few "consults", but Carlos was different. Beyond listening to my ideas, he was very willing to accept critique of his interpretation of my idea, and completely redesigned his original drawing taking in to account my critique. He is passionate about his art, and is driven to be a better artist with each piece. Most of all I appreciate Carlos' honesty- straight up is all he knows. He could tell when I had had enough and called one of my sessions early- our energy had gone negative and rather than push me, we were done. However, when it got tough Carlos knew I needed to "earn it" as he says- and we did. I have been stopped by numerous people that compliment me on Carlos' work- some even want pictures with them. Mostly people are taken with the colors- "the colors man… that's amazing! Is what almost everyone says.
The Artcage is private and a very cool place too… it has a low-key, but rockin' vibe. It's ridiculously clean. Carlos' set-up is modern and more than compliments his work. I have done the old-school equipment and the modern tools are so much precise and QUIET! I have sat for Carlos for six or seven 4+ hour sessions…so far… He has a number of my ideas, so we have a lot to do (and more FUN to have) together. Carlos and Angela (Carlos' wife and just a blast to hang out with) and my wife and I have become good friends throughout his work.
I've been going to Artcage Studio for about 5 years. What brought me to Carlos was a few of my friends that had previously gotten work done. I had some extremely bad ink beforehand, one of which was a big black tribal piece that my wife hated. I needed an ARTIST and not a shopping center revolving door place. What has kept me coming back was not only Carlos' clean lines and artistic vision, but the setting. It's private, because nobody else is there except myself, him and his wife. The two of them carry on great conversations and will also play or suggestion something to watch on the big TV. The only way I would let anyone else tattoo me is if Carlos or Angela recommended someone else.
I was introduced to Carlos through several friends at CrossFit who had gotten pieces done by him. Not sure what to expect when I made the trip to meet him and his wife for my first consult- but I knew within minutes of arriving that I had found the right place and the right artist. I started with something small that meant something meaningful to my military service. Carlos then accepted the challenge to create a very unique cover up of extremely old ink on one arm. He did an incredible job- fast forward to now; we are working on a shoulder & full sleeve on my other arm. I am a repeat customer and happy to say that both Carlos and his lovely wife Angela have become great friends and I truly enjoy their company while in the studio and out socially.
Going to a session with Carlos, and visiting with him and his wife is always a good time- and I look forward to the experience, especially since I know we are going to have some good laughs. While I was originally nervous for my first session- but the tasteful, classy studio setting and demeanor of Carlos and Angela put me quickly at ease. I enjoyed the creative process and his approach to design what I could only verbally describe. I've since sat for several 4+ hour sessions, and can honestly say I've never truly been uncomfortable. Carlos has an incredible touch and is very in tune with his clients. We always manage to laugh a lot and I'll watch silly movies, standup comedy or a concert to pass the time. Good artwork & tattoos are addictive, and I'm already planning the next piece with Carlos. It's been an incredible experience and I'm thrilled with the design and colors. The private studio setting is like no other, and I'm happy to say that Carlos and Angela have become dear friends. I wouldn't have it any other way.
Frank. Baton Rouge, Louisiana
Carlos and Angela of Artcage studio are a phenomenal team. I have been driving from Baton Rouge, Louisiana to see them for more than five years. The work is outstanding and the studio is a very welcoming, comfortable environment and most importantly clean.
I always look forward to going to see them and getting some amazing work done.
Thank you Carlos and Angela, keep doing what you're doing.
My experience with Carlos was needless to say the BEST experience I have ever received getting a tattoo. He not only is a tattoo artist but a GREAT artist as well. He figures you out and what you will like and puts your likes onto paper and then to your skin after he makes sure you love what you see. If you don't like it, he will change it to make sure you love it. He is very professional and makes you feel at home. His attention to detail is without question the best I have ever received. HANDS DOWN! I will never get another tattoo from anybody but Carlos!
Crystal Massimo. Katy, TX
Carlos is an amazing artist. Working with him over the past few years has not only been a joy but an honor. Life experiences shared and the significance behind the work that he has done has given me such a beautiful masterpiece. My body is my canvas and I've entrusted him to bring that vision to life with his talent. I wouldn't trust anyone else to do what he has done and I'm grateful for the time that he and his wife Angela have spent with me over the years skillfully bringing my body art to life.
My experience with Artcage tattoo studio has been nothing short of spectacular! I have had 14 sessions with Carlos for a sleeve on my left arm (cover up) and have never been disappointed. Carlos is a master at his profession. His wife Angela keeps the business running smooth while Carlos handles the art. I highly recommend Artcage Tattoo Studio for your next or first tattoo experience!
Nicholas Kennedy. Sugarland, TX
Hi Carlos,
I would just like to take a minute and say thank you for being a true talented artist, providing me such a great experience.
I've been coming to have my tattoos done over 2 years. Carlos is a genuine person, it's rare to find that these days. I've been 100% satisfied, currently had 1/2leg tattoo, my arm sleeve, my shoulder, even back.
Whenever I'm in public I'm constantly getting compliments on the detailed work Carlos. I'm very proud of my tattoos. You have helped capture (through art) exact designs I asked for.
For anyone else reading…… If you're like me and had a lot of work done in street shops you know that not everyone who says they're an artist is actually an artist and that every artist who tattoos knows how to achieve the design on your body.
I can honestly say Carlos has it all. The shop is private, so you really feel like all the attention is focused on you and your tattoo.
Thanks again guys,